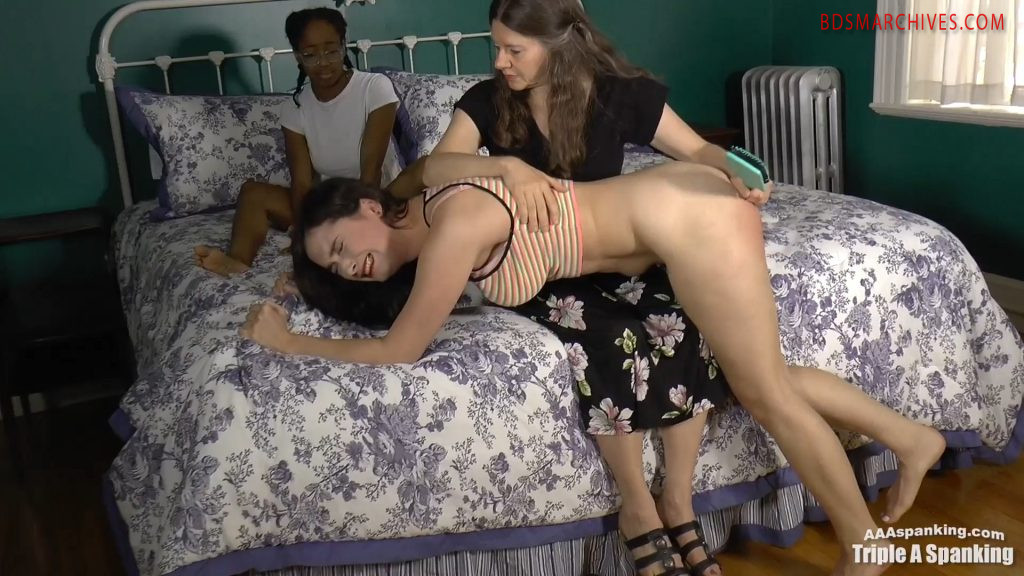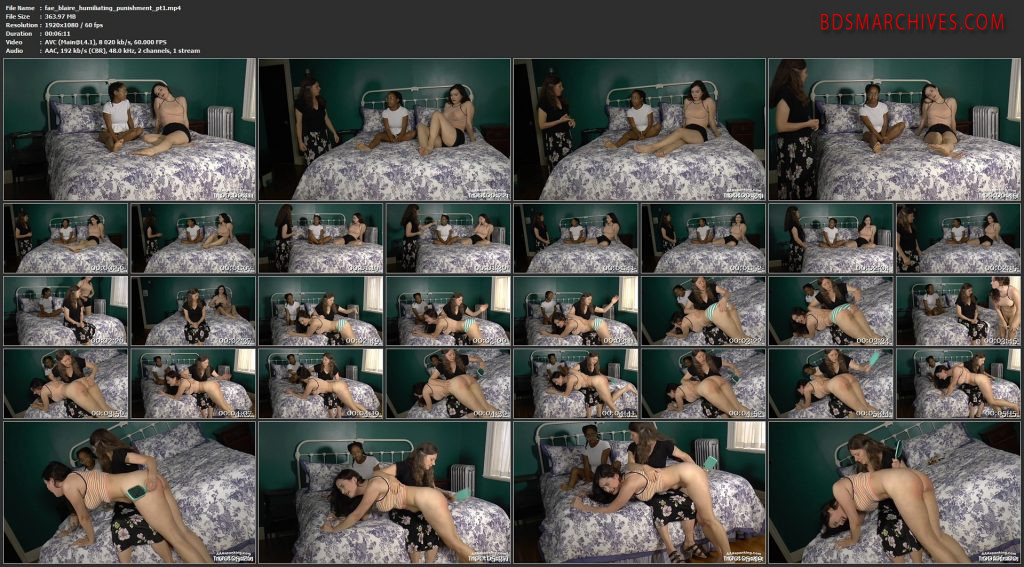 Fae and her best friend, Blaire, have had an amazing afternoon of childish fun down at their local Mall. They thought they were being cute but Fae's mom thought they were being precocious! Poor Miss Bernadette had suffered enough, having taken them both out for lunch, the movies and hanging out at their favorite places… the girls had repaid this with appalling bratty behavior. They were acting like silly babies, which they thought was funny, ahead of their planned sleepover. Once home and the girls are in Fae's room, the fun stops as mom announces there are a few things that will be happening after she had a phone conversation with Blaire's parents.
She is going to spank both girls in front of the other and has something special in mind afterward since the girls acted so selfishly. An embarrassed Fae is mortified, she pleads with her not to discipline her like this, and Blaire is just shocked at how this day is turning out! Fae throws a tantrum and gets punished with a harder hand spanking… then, after being told to remove her panties, she throws them down. This earns the brat a mean hairbrush spanking that has her yelping out loud in front of her friend. Then it is poor Blaire's turn, she receives the same embarrassing treatment and her bare cheeks take an equally hard hand and hairbrush spanking.
The final part of the punishment is a long and humiliating double diapering, side by side on the bed. As you would imagine; the girls' reactions are priceless as they plead that they have learned their lesson but Miss Bernadette ignores their embarrassment and tells them if they want "to act like babies, they will be treated like babies". Both are powdered and placed into huge, crinkly diapers that they must wear until the morning. Mom leaves the girls to "enjoy" their sleepover with both looking sorry for themselves, wondering how they will last the night without having to use their cumbersome baby attire!
File Name : fae_blaire_humiliating_punishment_pt1.mp4
File Size : 363.97 MB
Resolution : 1920×1080
Duration : 00:06:11
Video : AVC, 8 020 kb/s, 60.000 FPS
Audio : AAC, 192 kb/s (CBR), 48.0 kHz, 2 channels, 1 stream
http://95.215.205.103/5e2daf035ebb1f0c/fae_blaire_humiliating_punishment_pt1.mp4