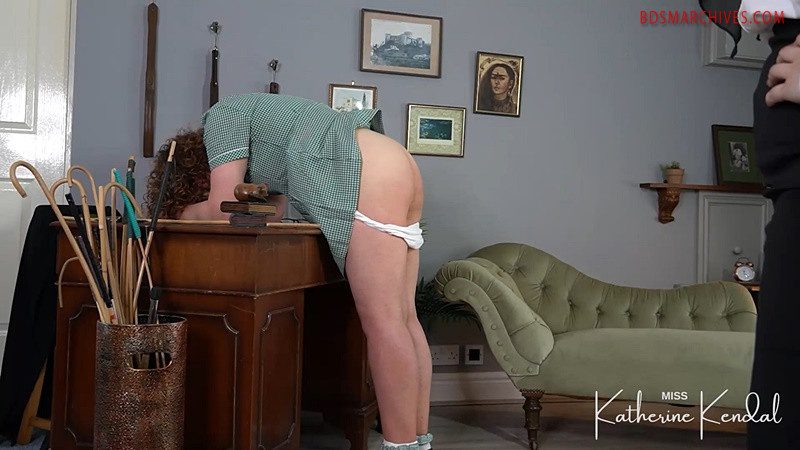 Naughty who don't hand in their homework on time get their bare bottoms caned.
In my first F/f collaboration for some time, I am joined by the seemingly sweet, but oh so naughty, Emma Christie. The young lady has been summoned to my office following three separate reports of missing homework. She should know all too well that it is three strikes before you are sent straight to the Headmistress for a bare bottom caning.
A truly atmospheric & intense roleplay scenario ensues and school girl Emma is visibly intimidated by the Headmistress' strict, no nonsense approach. Thoroughly scolded for her reprehensible behaviour, Emma tries to plead her case with the Head but it is simply not good enough. Excuses will not save her from embarrassment now.
Sent to bend herself across the desk, her short school summer dress, in a pretty Gingham green, is lifted up to reveal her regulation white knickers underneath. Her bottom is bared and she grips the desk in anticipation. Six moderate cane strokes land on her soft cheeks and pretty little pink stripes appear in a vivid contrast to her porcelain bottom. The Head fully intends the punishment to be a humiliating experience for Emma, without resorting to brutality.
The sorry young lady is made to stand before the Headmistress' desk with her knickers down and stripes on display until the sound of the school bell rings & she is dismissed back to class.
Do enjoy. Miss Kendal
Emma Christie, Katherine Kendal
File Name : Emma Visits the Headmistress.mp4
File Size : 250.7 MB
Resolution : 1920×1080
Duration : 00:11:17
http://212.162.153.174/24e83cb0e7a10097/Emma_Visits_the_Headmistress.mp4