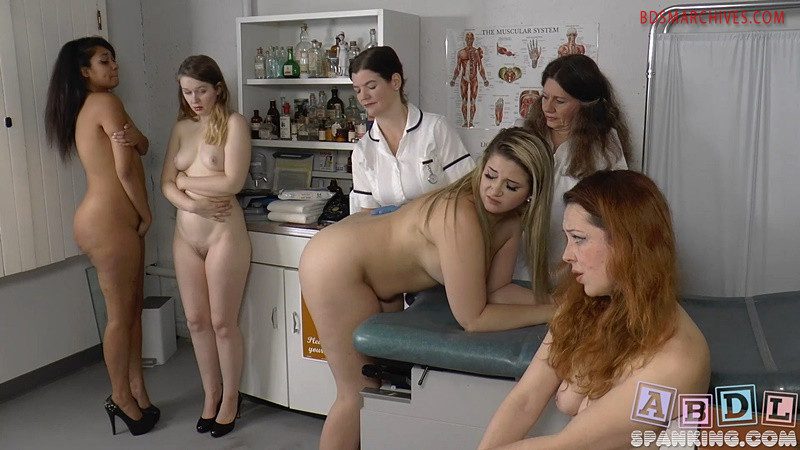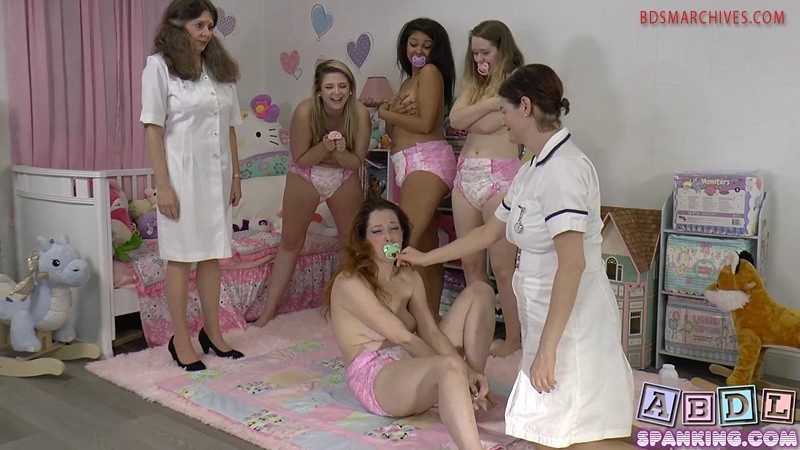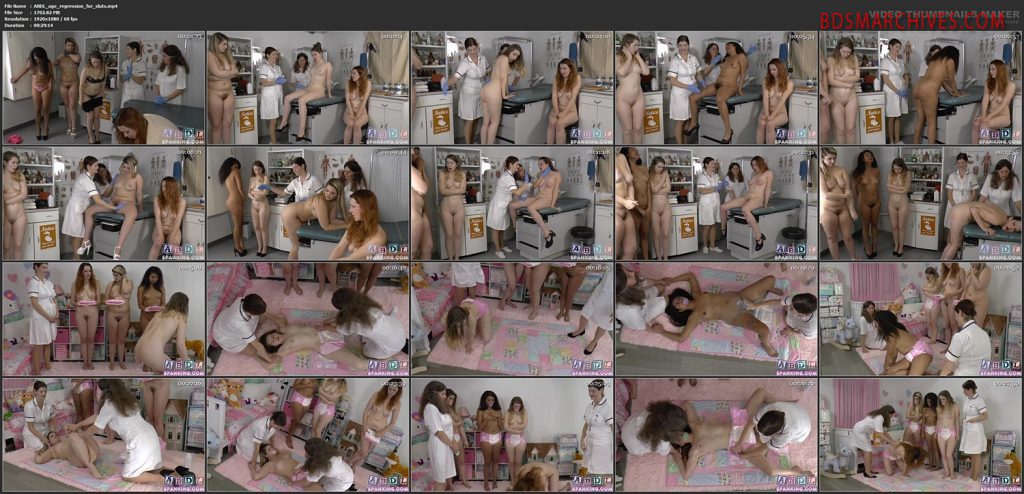 This is a very special multi-girl spanking and diapering film of 4 very naughty wayward girls: Faerie Willow, Sophia Quinn, Dolly Mattel, and Alora Lux. These young "ladies" are beyond help in the normal sense as they have all been disowned for their outlandish slutty ways and have been sent to this institute where the nursing staff knows exactly how to deal with them.
So their introduction to sadistic nurses, Miss Matthews, and Miss Bernadette quickly turns into a humiliating and demeaning "welcome" punishment to deprogram the girls away from their lascivious behavior! They are stripped and examined in front of each other by the nurses who take great pleasure in scolding the sluts and spanking their bare buttocks, groping the girls inappropriately, and slapping them at will! This is only the first part of their introduction as the nurses will Age-Regress the girls through a humbling public diapering.
It's time for age regression therapy for the naughty 4 sluts. Being regressed to this state, with all 4 girls powdered and taped into their cute pink diapers is still not enough. They are given pacifiers to keep them quiet… they are not to talk, or act in their new age that precludes such filthy thoughts and this is only Day One of their new environment!
Lovers of real humiliating punishments, true age regression and diaper discipline will be amazed at just what content we can produce. This is the full film (best value) and we will be releasing 2 further clips for those that prefer to see either the Examination Room Punishments or the Age Regression Diaperings.
Clara Hewitt, Dolly Mattel, Faerie Willow, Laura Lux, Miss Bernadette, Sophia
File Name : ABDL_age_regression_for_sluts.mp4
File Size : 1702.82 MB
Resolution : 1920×1080
Duration : 00:29:14
http://212.162.153.174/9024d8385dfa5be9/ABDL_age_regression_for_sluts.mp4