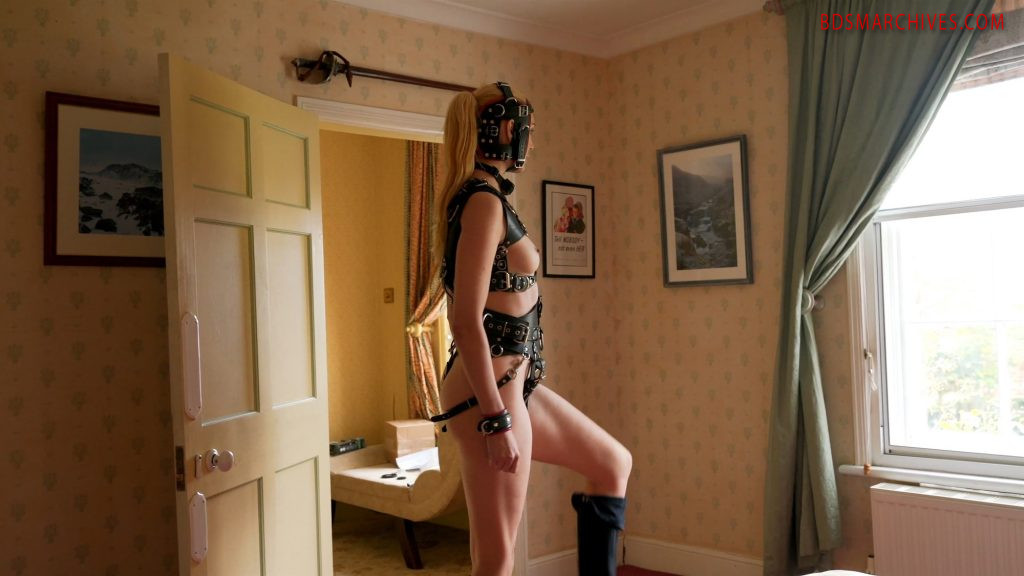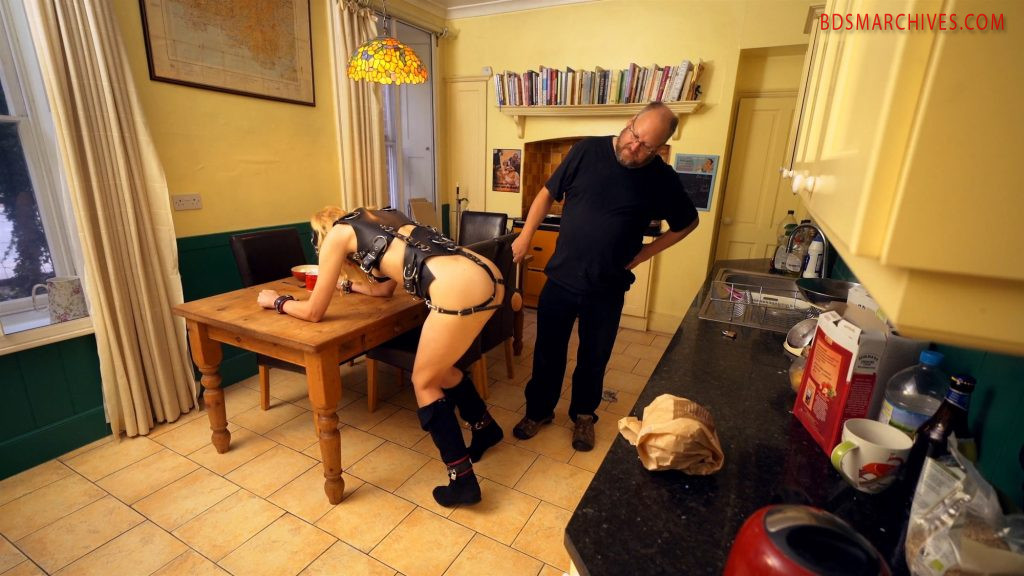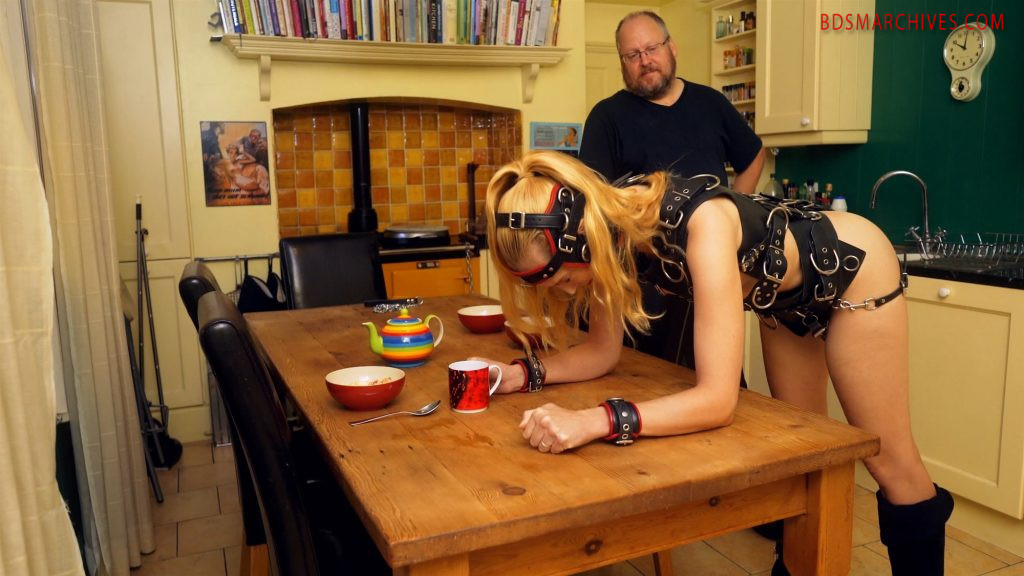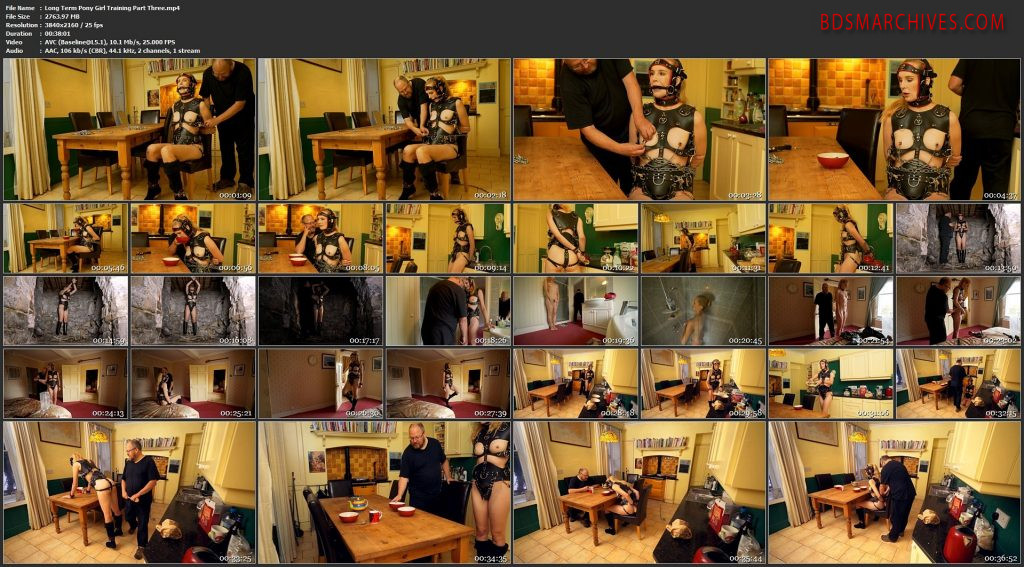 Ariel's training proceeds to the kitchen for feeding time. Still in her pony girl harness, head harness and bit gag, the trainer chains her to a chain with heavy steel chains. Once she is securely fastened he adds clamps to her already sensitive nipples, making every slight movement into a painful experience for the recalcitrant submissive.
Once he has her proper immobilised, it is time for pony girl feeding. He lays out a bowl of oats and a bowl of water for her and bids her to eat and drink her fill. But how is she even going to be able to reach? She certainly cannot use her confined hands. In fact she can't even bend down enough to reach. But her trainer is generous and holds the feeding bowl in front of her so she can nuzzle up the oats and lick water from the bowl to quench her thirst. Her humiliation knows no bounds as she begs him to let her have some more, yes please sir! Although she DOES seem to be mostly eating the chocolate treats, not the nutritious oats!
After feeding it is time for her to do the chores. He unchains her but padlocks her hands behind her back and gags her once again. She must clean and tidy the whole kitchen and do the dishes with her hands bound behind her. Oh, and he's left the nipple clamps on so that every step causes the chain to swing and her nipples to received a painful pull!
Then it is time to return to the prison cell. She must learn patience and endurance, so he chains her standing with her hands chained above her head. How long can she endure the standing torture stress position? As long as she must: all night!
She is so grateful when he returns to release her at long last with the day of the new day. If she behaves better, tonight she will get a nicer napping environment.
He takes her up to the bathroom. Time for this pony girl to get a wash and rub down! She is stripped naked and must shower in full view of her trainer, to her further humiliation. Once scrubbed clean she is locked back into her pony harness for the day's training. Does she remember the steps he taught her yesterday? Still in the bedroom she is put through her paces as he assesses her performance.
Then it is back down into the kitchen for more chores. She must prepare tea and coffee and breakfast for them both, but she is of course not permitted to join him at the table straight away- she must kneel and await permission, and punishment with the riding crop for the small mistakes she has already made this morning. Then she is permitted to sit at the table but must once again eat without using her hands which are cuffed behind her. It is so much worse having to do it in front of a person who is eating normally!
Amelia Jane Rutherford, Hywel Phillips
Amelia Jane Rutherford, Ariel Anderssen, Hywel Phillips, Restrained Elegance, Restrainedelegance
File Name : Long Term Pony Girl Training Part Three.mp4
File Size : 2763.97 MB
Resolution : 3840×2160
Duration : 00:38:01
Video : AVC, 10.1 Mb/s, 25.000 FPS
Audio : AAC, 106 kb/s (CBR), 44.1 kHz, 2 channels, 1 stream
http://212.162.153.174/ff069661710797a8/Long_Term_Pony_Girl_Training_Part_Three.mp4