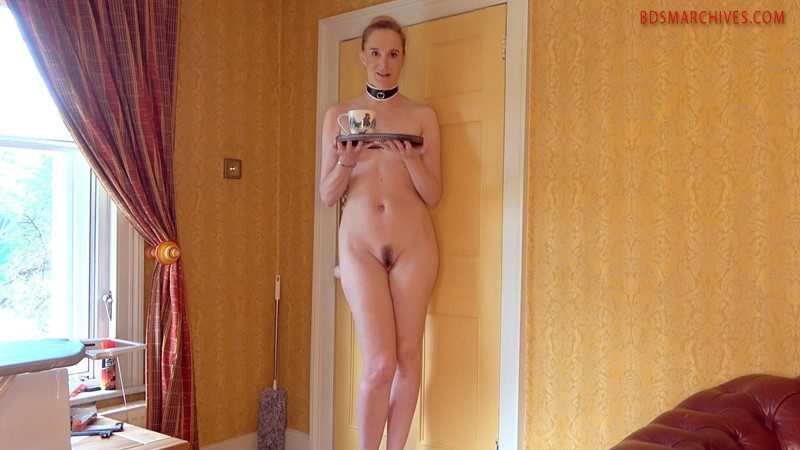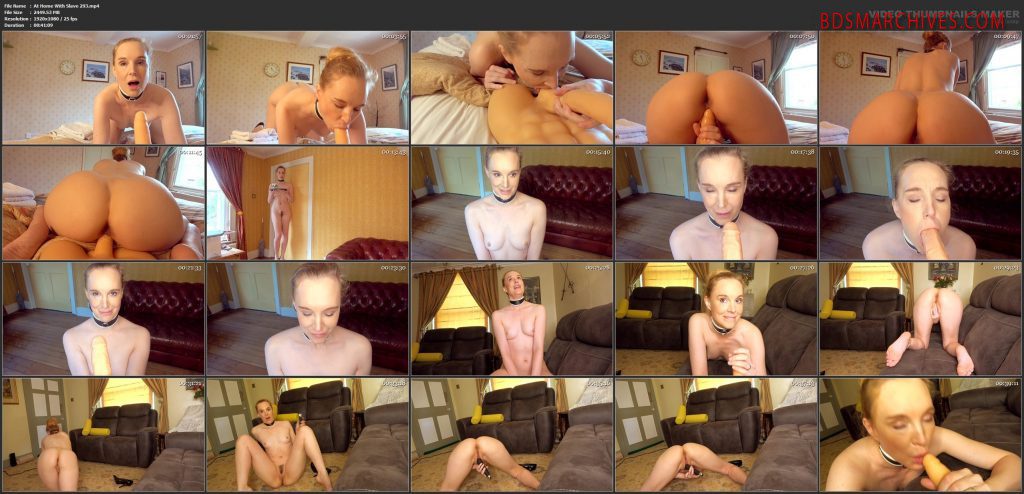 This movie includes three separate scenes (see descriptions below). I've already released the three scenes as individual videos if you don't want the whole story.
I knock on your bedroom door and come in, dressed in nothing but my leather slave collar and my high heels. I begin to tidy the room before you call me over to the bed to attend to your cock, which is in need of attention. I'm delighted to oblige – I love being your slave, but my favourite part of the entire thing is the sexual service. I suck on your cock and balls, which turns me on a great deal, so I'm delighted when you eventually invite me to ride your cock too! I turn my back to you because I know you like the sight of your cock sliding slowly into my pussy, as I grind on your cock and then take it deep inside me. It feels sooooooo good, riding your cock and knowing that I'm giving you pleasure. I hope I can make you cum!
I knock on the door and bring in your afternoon tea, but you're not in a good mood! Stock prices are falling and you take issue with my walking-with-a-tray skills. Being a sex slave is hard work! Eventually I please you enough for you to allow me to approach you, and after giving you your tea and biscuits, I ask if there's anything else I can do to help relieve your stress? Fortunately, there is! You instruct me to kneel down in front of you and take your cock in my mouth. You want me to use all my skills to give you the best blowjob possible, until you cum in my mouth and I swallow your jizz! I'm more than happy to oblige, I love it when you cum in my mouth!
I'm serving you your after-dinner brandy, sir, and I'm delighted when you tell me to stay, and to kneel on the sofa, next to you. You want me to answer your questions about how I feel about having been your slave for the last month or so. The answer is that I'm having the time of my life! This is so much better than the training academy, where my trainer never seemed to want to fuck me. But here, although you're strict, and you punish me quite often, you also seem to desire me, because you use me for sex of some kind multiple times a day. And I love it! All this talk about sex seems to be turning us both on – you direct me to stroke your cock, and then to touch myself, too. Watching you jerk off turns me on more, and as I display myself for your entertainment, my pussy gets wetter and wetter. I can't believe it when you give me a vibrator and invite me to make myself cum for your enjoyment. I'm so turned on that's no problem at all, and then you instruct me to make you cum too. You spray your jizz all over my body, and tell me to let it dry so that I can go back to my household tasks for the rest of the evening with the reminder that I'm your sex slave all over me…
File Name : At Home With Slave 293.mp4
File Size : 2449.53 MB
Resolution : 1920×1080
Duration : 00:41:09
http://95.215.205.103/37cd5b2a19e8be36/At_Home_With_Slave_293.mp4