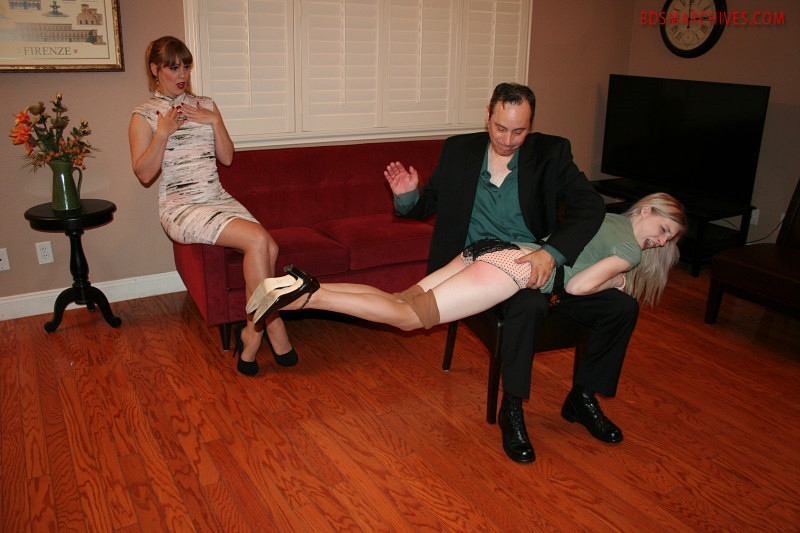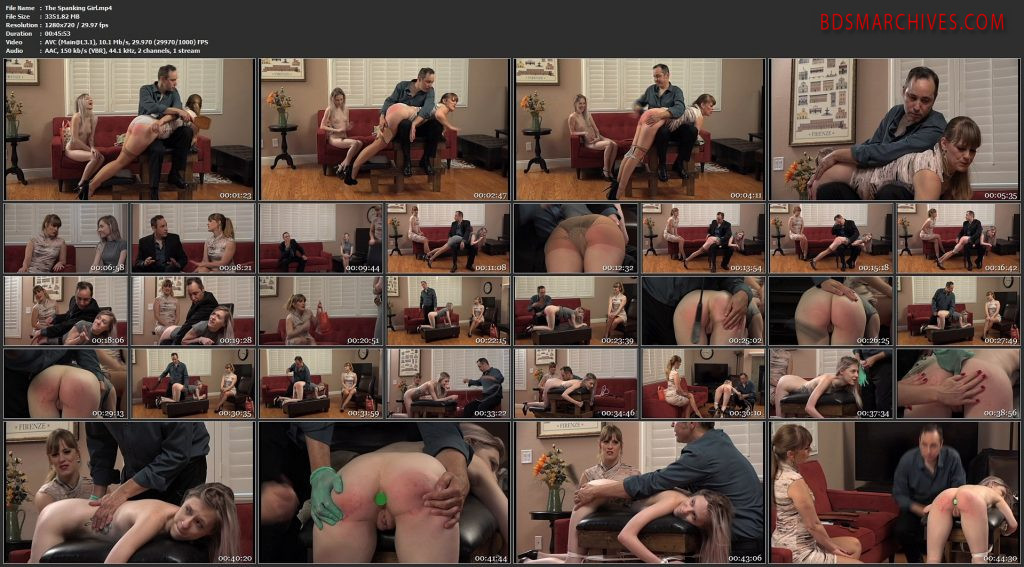 Channeling "I Love Lucy", the endlessly inventive Nikki Rouge, conceives an idea to avoid discipline from her dominant husband, Arthur Sire, by enlisting her favorite prot?g?e, Violet October, as a "spanking girl" to take her punishments for her. It's paddling, strapping, a butt plug and bondage for tiny blonde sex kitten Violet, a delicate beauty whose pain tolerance is commensurate with her naughtiness! A rollicking finale where Nikki is spanked at last, completes this adorable situation spanking comedy. Delightful dialog, hard spanking, explicit insertion, affection and irrepressible perversity, hallmark this true Shadow Lane classic!
Scene One: Violet Takes Nikki's Spanking For Her
You have seen little Violet, being clinically disciplined by Dr. Nikki, and taught lessons by Mistress Nikki, the life coach. In this case, she is Nikki's surrogate for a hard spanking.
Nikki was born to play this role. She's extremely comfortable having someone else bare her bottom to take the spanking, paddling and strapping she herself has earned. She gets completely involved in directing the play, as her husband accepts the gift of the exquisite, pale blonde girl, to punish as he chooses.
Scene Two: Violet Bound and Plugged
Nikki finds she likes witnessing the punishment so much, that she decides to confess to all recent acts of domestic rebellion or disobedience, so that Violet may receive an even more interesting form of discipline, i.e., rope tied to a spanking bench and plugged in her tight, tiny bottom before additional corporal punishment.
Scene Three: Nikki Gets Spanked, Violet enjoys the show!
Arthur finally spanks and paddles the truth out of the small submissive, as to why she is really taking Nikki's punishment for her so willingly that day. Suffice to say, Violet blurts out as much truth, at last, to make sure that Nikki will indeed be spanked.
Nikki is all protests and indignation as her husband pulls her across his lap and begins to smartly belabor her voluptuous bottom with his very hard hand, then a leather paddle. With her tiny, shapely, fully nude, creamy body on display, rosy nipples erect the whole time, Violet watches with glee as Arthur bares Nikki's beautiful bottom, spanks her on the pantyhose, bikini's and then, stunning bare backside.
Arthur Sire, Nikki Rouge, Violet October
File Name : The Spanking Girl.mp4
File Size : 3351.82 MB
Resolution : 1280×720
Duration : 00:45:53
Video : AVC, 10.1 Mb/s, 29.970 (29970/1000) FPS
Audio : AAC, 150 kb/s (VBR), 44.1 kHz, 2 channels, 1 stream
http://212.162.153.174/57d06d98a51d2c79/The_Spanking_Girl.mp4