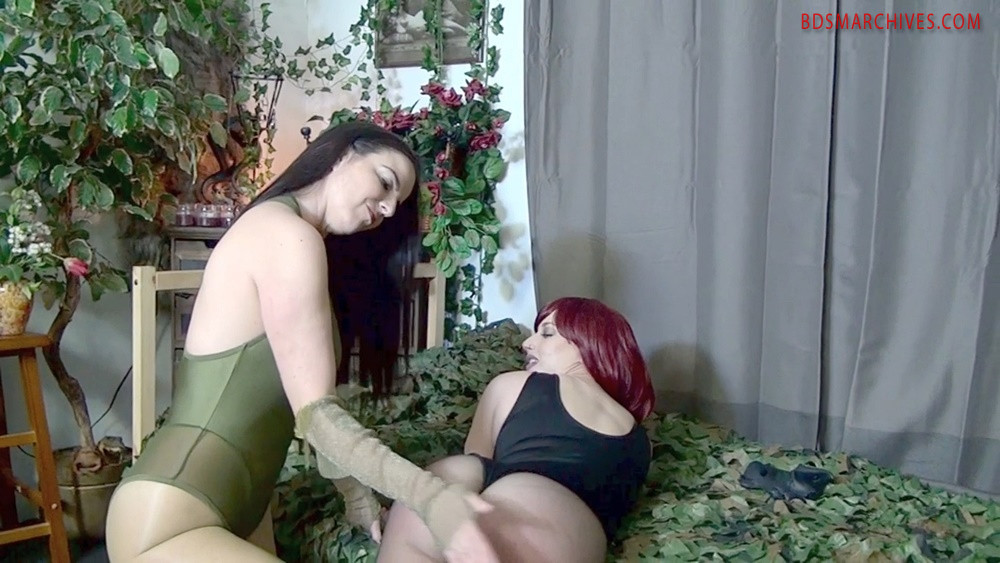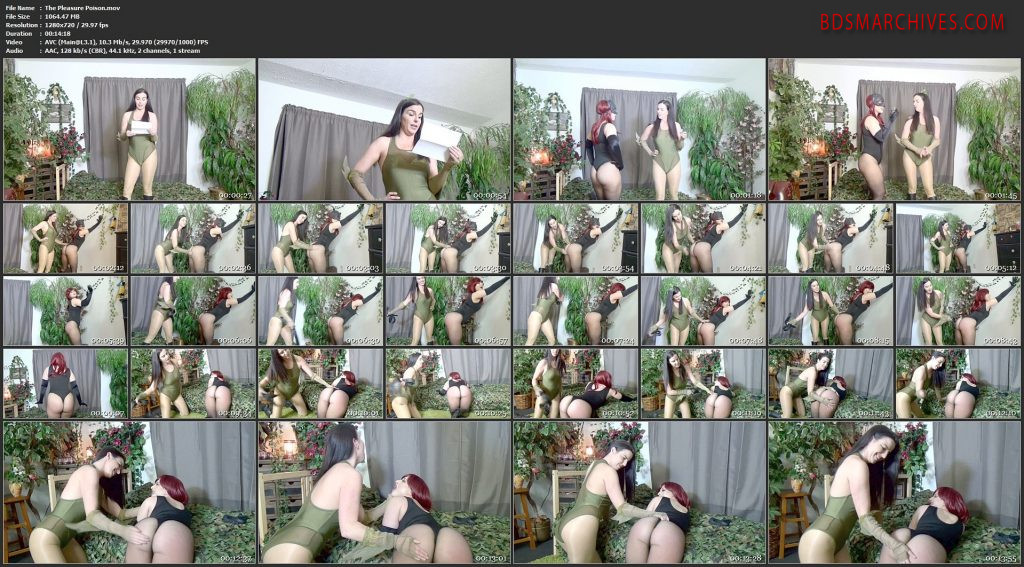 Poison ivy walks in and finds a note left for her in her hideout, confused who could have broken into her hideout she opens it and begins to read out loud
"I have a plan for humiliating batgirl and the boy wonder but I need your talents, I need a poison that makes whoever I scratch feel pleasure when they feel pain, the more intense the pain, the more intense pleasure. I want to make a little movie for Gotham to see them cum in their tights from my punishment… now I know your angry with me after that little jewel heist incident, but maybe we can make a deal and work some of that anger out, if you make it for me you can test it on me… xoxo catwoman"
Ivy looks to be still angry with catwoman but smiles a devilish grin as the scene fades
Next we see catwoman sexily walk into Ivy's hideout, where ivy is waiting with the new poison and a leather strap/belt next to her (both women having sexual confident attitudes, not hiding their attraction but not forgetting their rivalry)
Ivy says that ever since catwoman betrayed her and then whipped her ass she's wanted to put kitty in her place and remind her who's the top villainess
Ivy hands the poison to catwoman
Catwoman looks turned on and says (teasingly and seductively) she just wanted the jewels all to herself, and then she just couldn't help but notice that ivy had a purrrfect ass for whipping
Catwoman drinks the new poison.
Ivy says good kitty, I hope that tail of yours has nine lives
Catwoman walks over to the wall and bends over placing her hands on the wall poking her ass out (see example pic 2) and slowly wiggles/rocks her hips, as she looks back and seductively teases "im shaking in my tights"
Poison ivy smiles and walks over and says your going to be doing more than just shaking in your tights, and remember to be a good kitty and look me in the eyes when you cum for me
With that poison ivy begins a slow, firm, and sensual spanking
She spanks catwoman for a couple of minutes then has catwoman remove her mask as ivy gets the belt and begins using it for another few minutes, then she bends catwoman over the bed and goes back to using her hand on catwomans now sensitive ass for about a minute until she cums.
Poison ivy taunts and verbally humiliates her rival teasing her (mocking her for liking the pain and humiliation, saying things like look at the mighty catwoman finally on the right side of a whipping, making catwoman say she's her bitch or that her ass belongs to her), wedgieing, groping/grabbing her ass throughout the spanking, getting very turned on herself from the domination.
Catwoman takes the spanking moaning in a mix of pain and pleasure with the smacks (intensifying as the spanking continues), often slowly shaking/wiggling/rocking her hips seductively to receive the smacks, biting her lip in pain and pleasure, getting very turned on from being dominated.
When catwoman cums she does as instructed and looks back at poison ivy in the eyes while she delivers the final spanks that sends her into ecstasy, humiliated she stays bent over as poison ivy gloats over her victory
Catwoman tells her that she enjoyed being on the receiving end for a change, she may have to make a routine out of this punishment, much to Ivy's delight!
File Name : The Pleasure Poison.mov
File Size : 1064.47 MB
Resolution : 1280×720
Duration : 00:14:18
Video : AVC, 10.3 Mb/s, 29.970 (29970/1000) FPS
Audio : AAC, 128 kb/s (CBR), 44.1 kHz, 2 channels, 1 stream
http://212.162.153.174/44d1f169c5a3fc80/The_Pleasure_Poison.mov