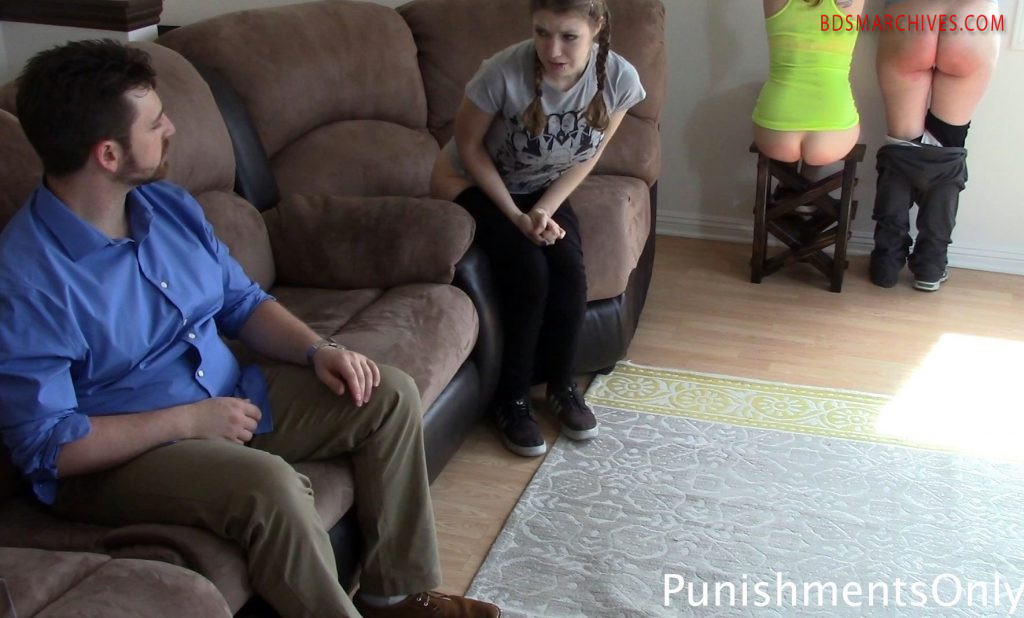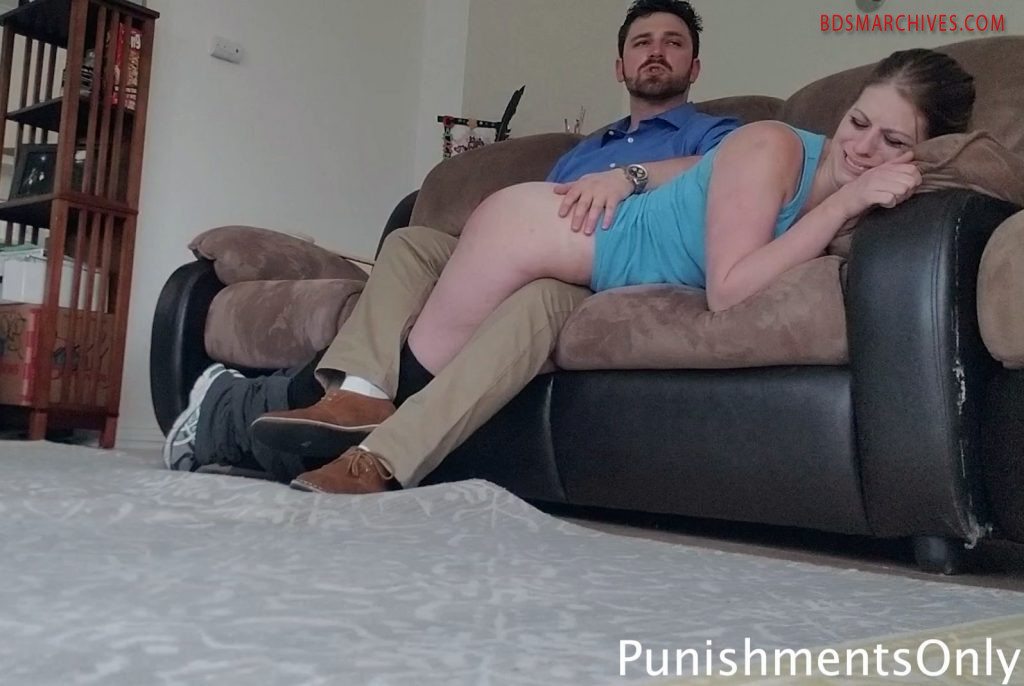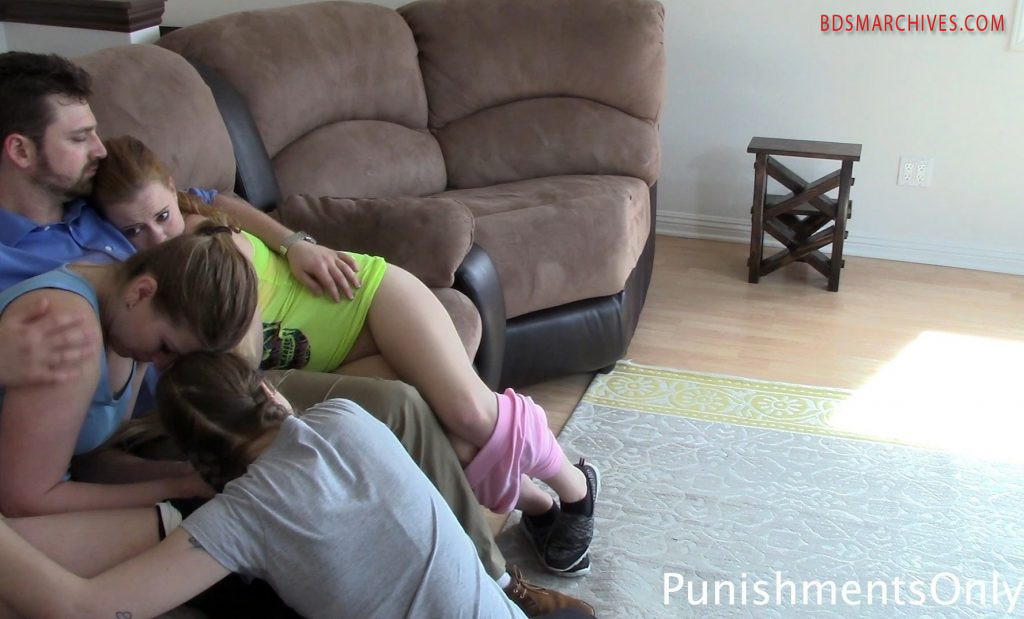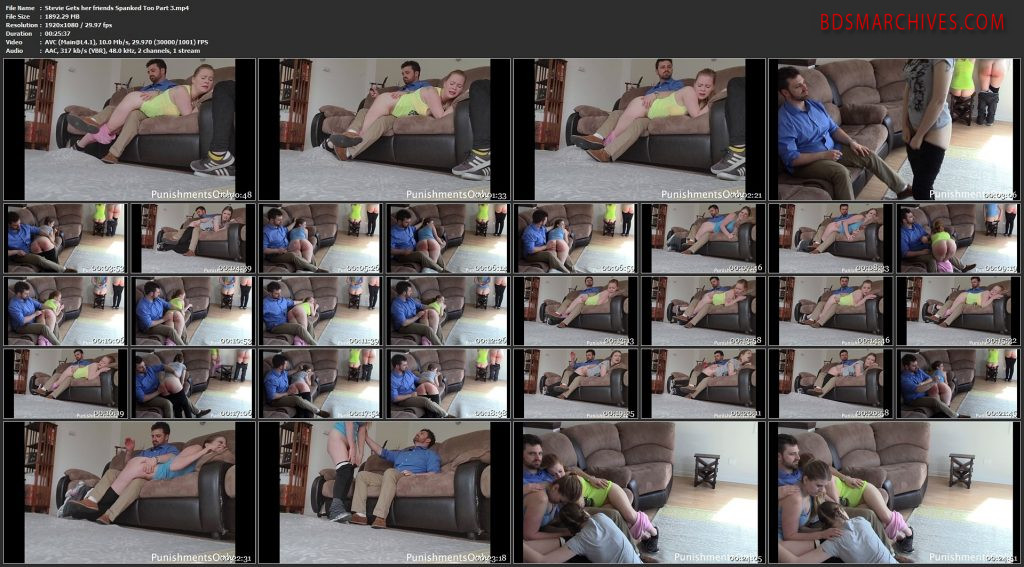 When Stevie, Harley, and Apricot went to Vegas together, I had a buddy of mine get them into his new club for free, and even free drink coupons. Well, some other girl said something to them, Stevie overreacted and threw a drink in her face, and they all physically went at each other until they were broken up. Numerous glasses broke, one bystander fell into broken glass, another patron's outrageously priced bottle service was crashed into and had to be comped… not to mention that for hours on a Friday night, a big section of the club had to be walled off while the police conducted an investigation. Long story short, my buddy had to talk to the cops to keep any of the girls from being arrested, and I agreed to pay him $6000 for the damage and lost revenue.
When they get back to Los Angeles, I know none of them have the $2000 they each owe me. Committed to administering well deserved spankings, I make Stevie explain to them that in our house, she gets spanked for misbehavior. Then I explain to her friends that I'm not going to charge them any interest on their $4000 loan, but I insist that they be spanked just like Stevie or else I'll void the check I wrote to my friend and tell him to contact them for payment. Terrified, they have little choice but to sit there and watch in horror as I spank Stevie right in front of them, both knowing that they are going to be next.
Stevie is then put on the corner stool, facing away from the wall with her hands on her head so that she has to watch her friends be spanked just like her. Now it's Harley's turn over my knee. Soon after I begin to spank her, she puts her hands back to try to protect her bottom. Determined to hold her behavior to high standards and teach her to accept the consequences of her actions, I interrupt Harley's spanking for a hand strapping. I stand her up, instruct her to hold out her hand, take off my leather belt, and give her open palm 5 good strokes. Then I take her back over my knee, and her spanking resumes.
After Harley's first spanking, she is placed against the wall with Stevie, and Apricot goes over my knee. Shortly after I begin, Stevie protests that it's "fucked up" to punish her friends. Having zero intention of tolerating her mouthing off to me for my decision that her friends be punished too, I interrupt Apricot's spanking to give Stevie a good mouth soaping, along with a few full forced spanks while she holds the soap in her mouth. Then I tell her to go rinse her mouth out with water while I get back to seeing that Apricot be thoroughly spanked.
After Apricot's first spanking is over, it is on to part 2: time for the bath brush. First Stevie gets an extremely harsh combination of the bath brush and my hand while Apricot holds her wrists. Then Apricot does while Harley holds her wrists, and then the two of them switch places. Whichever girl is neither being spanked nor holding the wrists of the girl who is, she has to sit on the stool against the wall and listen to the ordeal.
After each girl's bath brushing is shown with the bottom cam and then the face cam, it is time for the paddling to begin. Stevie gets 20 with her custom lexan paddle, followed up by another hand spanking. After this is shown from the bottom cam angle, the movie picks right up in part 3 with the face cam angle of her paddling and the hand spanking that follows.
Next up is Apricot, who gets 10 swats OTK with the paddle immediately followed by another hand spanking. This is shown from the bottom cam and face cam angles, and then Harley gets 10 swats OTK with the paddle followed immediately by another hand spanking as well. After Harley is paddled and spanked, she is sent back to sit her spanked bottom on the stool again, and it is Stevie's turn yet again. A hand spanking is mixed in with some more utilization of the bath brush, then it's back to the stool and Apricot's turn yet again getting the hand and bath brush again. Finally Harley is up for a final bath brushing and hand spanking, and these are all shown from the bottom cam and then face cam angles. After Harley's final hand and bath brush spanking, the three girls are done being punished. I call Stevie and Apricot over, and I comfort them all so they know their punishment was administered out of caring and concern for their well being. They are all nice girls, and they were spanked for their own good.
Apricot Pitts, Harley Havik, Loren, Stevie Rose
Apricot Pitts, Harley Havik, Loren, Punishments Only, PunishmentsOnly, Stevie Rose
File Name : Stevie Gets her friends Spanked Too Part 3.mp4
File Size : 1892.29 MB
Resolution : 1920×1080
Duration : 00:25:37
Video : AVC, 10.0 Mb/s, 29.970 (30000/1001) FPS
Audio : AAC, 317 kb/s (VBR), 48.0 kHz, 2 channels, 1 stream
http://212.162.153.174/2e34aad7a89cbdc5/Stevie_Gets_her_friends_Spanked_Too_Part_3.mp4