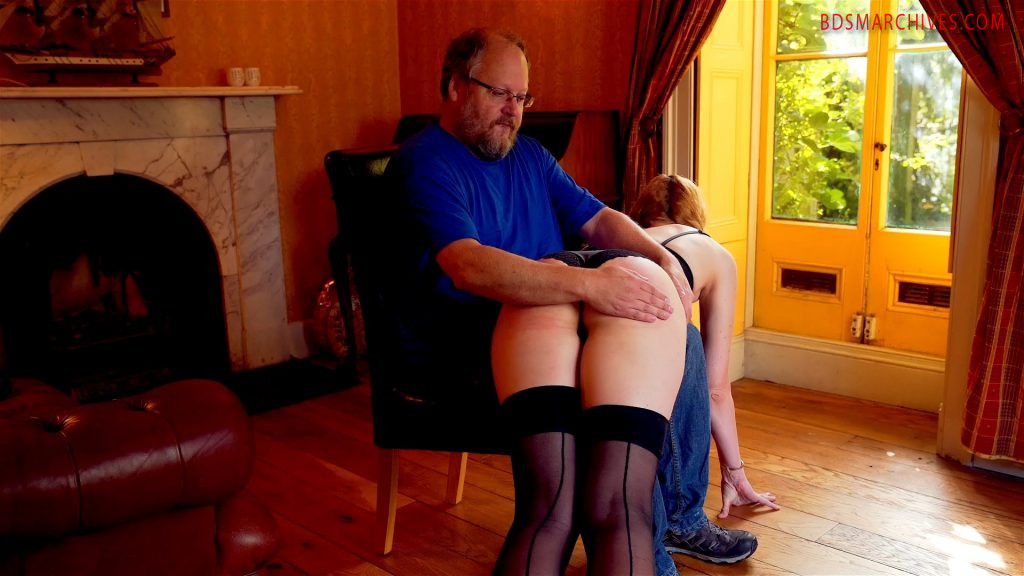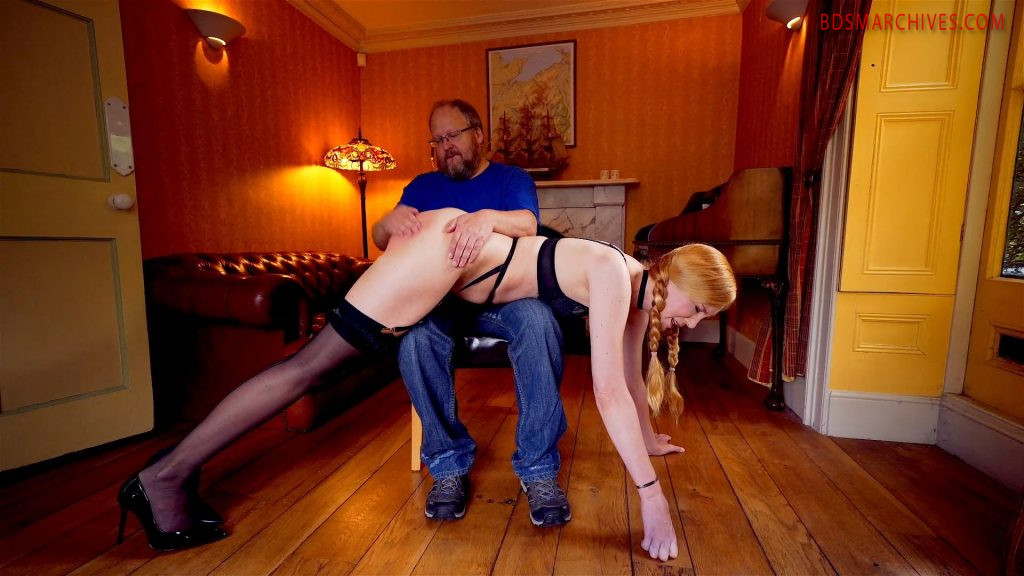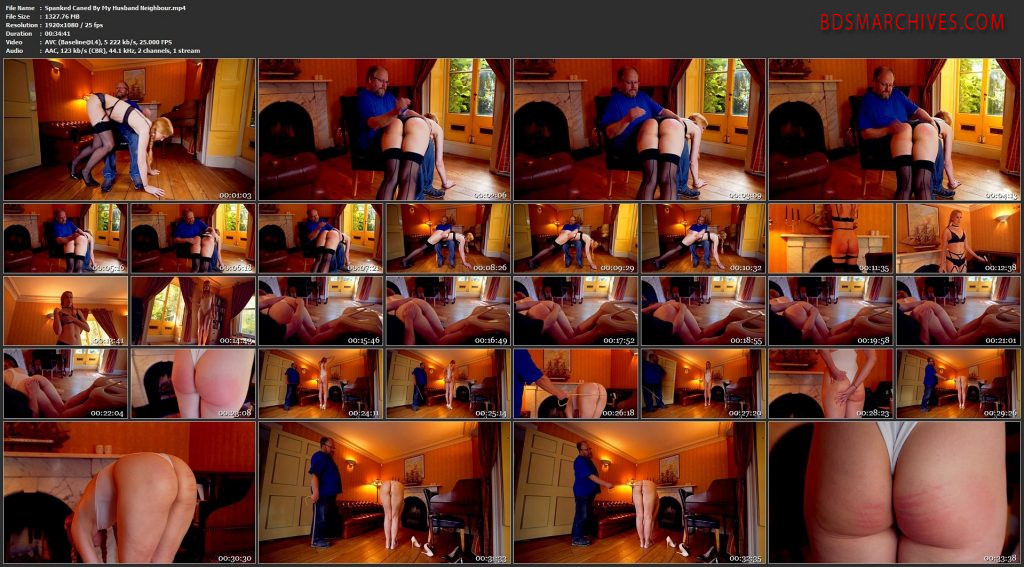 Charles, our next door neighbour, has spotted me wearing my scandalous thong leotard and high heels in the garden again, and has naturally reported the matter to my husband. I don't know why they're so bothered by the whole thing!
My husband has been on the phone to Charles, and has made me wait outside his study in just my underwear, stockings and suspenders. I'm sure he's going to spank me, and I anticipated correctly; he calls me in and without even speaking to me, puts me over his knee and immediately starts spanking. Worried about getting into further trouble, I don't offer any explanations, and for 10 minutes, the spanking progresses in silence, with the sounds of the smacks reverberating around the room.
After 5 minutes he pulls down my panties and continues, and then eventually tells me to stand facing the fireplace with my hands on my head. He's inviting Charles around to deal with me too, and wants me to wait for him like this. How demeaning!!
(Dear viewer – Charles is also played by my husband, lol, cos we're in lockdown. He changed his clothes and we shot POV style so as not to make it look too weird, but I don't want you to buy this movie and expect to actually see two different men!)
When Charles comes in, he makes me read out the note my husband sent to him. It says that I should take off all my clothes (the shame!) and change into the scandalous leotard and high heels that caused all the trouble in the first place. I *hate* changing in front of him – it's so embarrassing and suddenly the leotard doesn't feel sexy it all – I feel stupid in it!
Then over Charles' knee I go, for 7 minutes of continuous spanking. My bottom's getting sore and pink and it's all so embarrassing, being punished by two different men, all in one day! He finally orders me to stand in the centre of the room with my punished bottom on display and my hands on my head again. He's then joined by my husband, who intends to give me 12 strokes. But if I move my fingers from touching my toes, he says he'll start all over again.
And I almost make it. But on the 12th stroke, I lose my balance and reach forward for a second. And the whole thing does start again! Red stripes appear all over my bottom, and the thong leotard gives me absolutely no protection. It's abysmal. And having Charles watch the entire thing is really the last straw!
Amelia Jane Rutherford, Hywel Phillips
File Name : Spanked Caned By My Husband Neighbour.mp4
File Size : 1327.76 MB
Resolution : 1920×1080
Duration : 00:34:41
Video : AVC, 5 222 kb/s, 25.000 FPS
Audio : AAC, 123 kb/s (CBR), 44.1 kHz, 2 channels, 1 stream
http://95.215.205.103/2d8b97de84d50b6b/Spanked_Caned_By_My_Husband_Neighbour.mp4