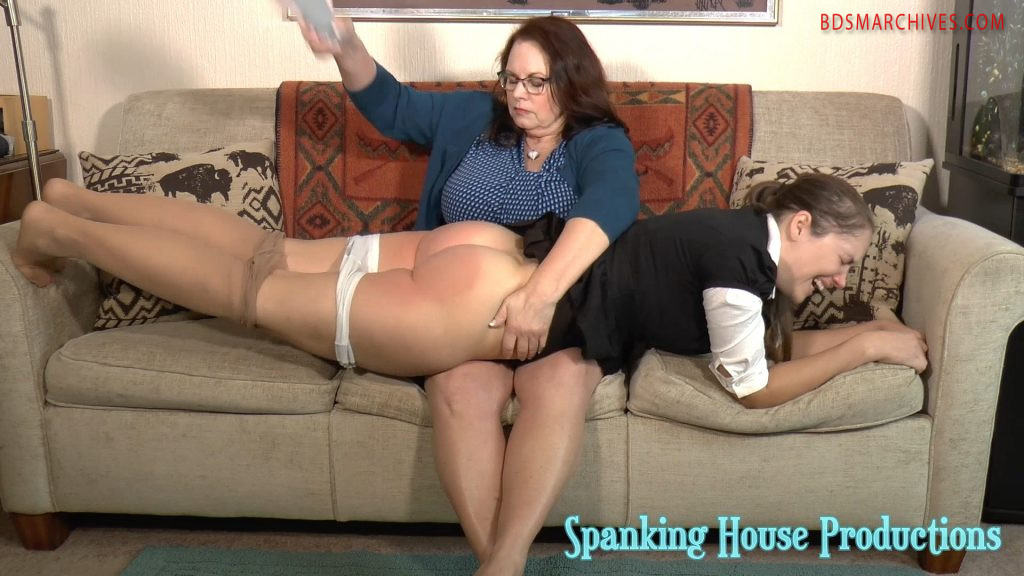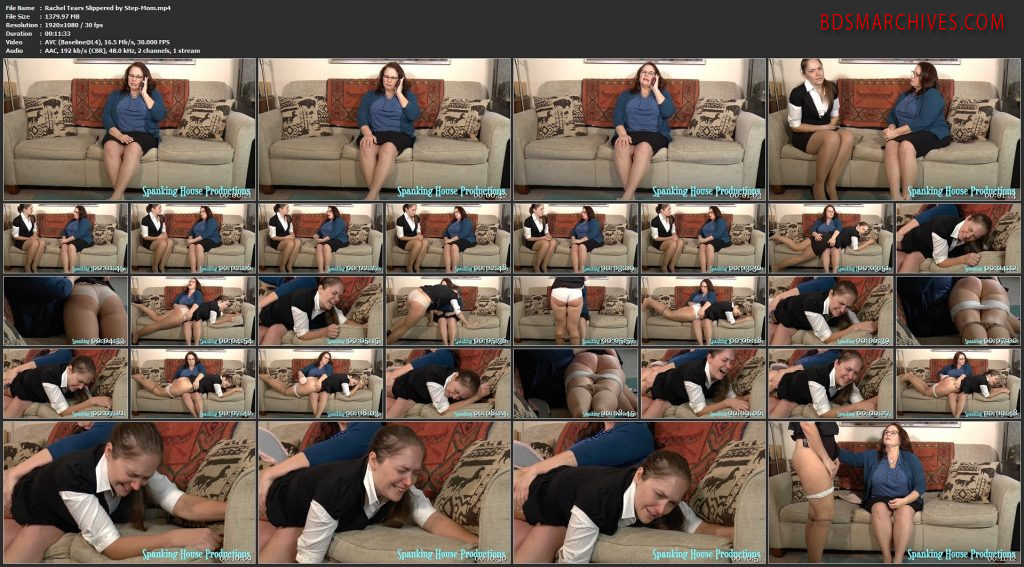 Elizabeth had arranged a job interview for step-daughter Rachel. Rachel didn't know that the interview was with her step-mother's best friend's husband's business, and Rachel blew off going to the interview. Elizabeth finds out about this before her step-daughter gets home and asks Rachel how her interview went. Rachel acts as if she went to the interview, telling her step-mother lies as to how well she did during it! Step-Mom Elizabeth is very upset with her step-daughter not only skipping out on the interview, but also lying about it! Elizabeth tells her very naughty step-daughter that she's in for a spanking!
Rachel is taken over her capable step-mother's lap for a spanking first over her skirt, then over her pantyhose. When it's time for the pantyhose to come down, Elizabeth has her step-daughter stand up and she then peels them down over her step-daughter's panties and legs, and it's over the lap again for Rachel! Her spanking continues, with Step-Mom's very sturdy hand, over her panties and then, soon, on the bare bottom! Rachel is finding her step-mother's hand spanking painful enough, but Elizabeth decides to use her own slipper to further spank her lying and unappreciative step-daughter! Though the slipper isn't very loud when it comes to being used for a spanking, that rubber sole certainly does sting! Rachel's tears are flowing, and the snot is running out of her nose, during this solid slippering! And, not only does Elizabeth apply the slipper with gusto, but she also uses her hand on Rachel's upper thighs, bringing out a very strong reaction from her step-daughter, howling & tears flowing.
Rachel learns her lessons about skipping out on interviews and lying to her step-mother. She's sent to her room to clean up and get ready to make phone calls to apologize for her inexcusable behavior.
File Name : Rachel Tears Slippered by Step-Mom.mp4
File Size : 1379.97 MB
Resolution : 1920×1080
Duration : 00:11:33
Video : AVC, 16.5 Mb/s, 30.000 FPS
Audio : AAC, 192 kb/s (CBR), 48.0 kHz, 2 channels, 1 stream
http://95.215.205.103/83dbbb76d227a85c/Rachel_Tears_Slippered_by_Step-Mom.mp4