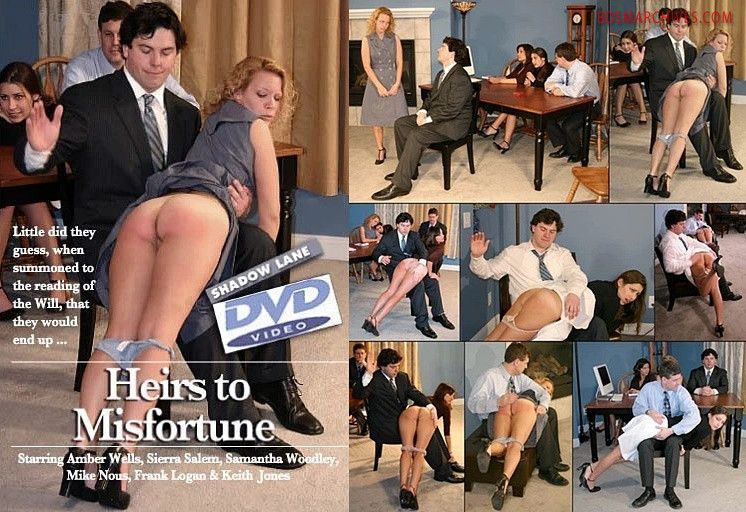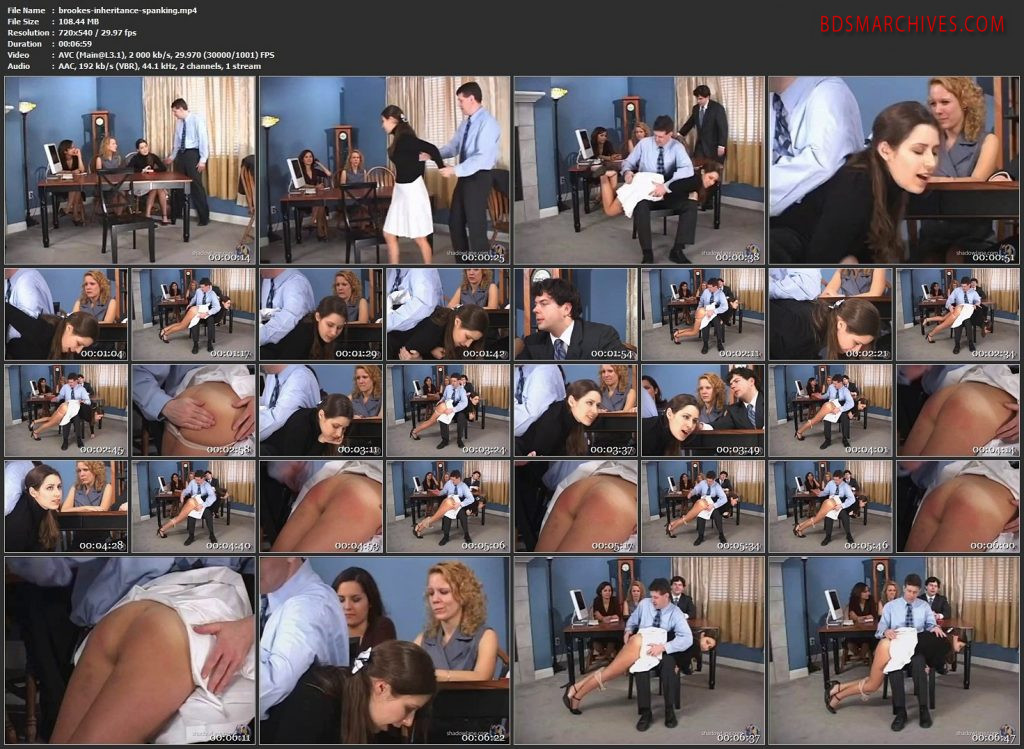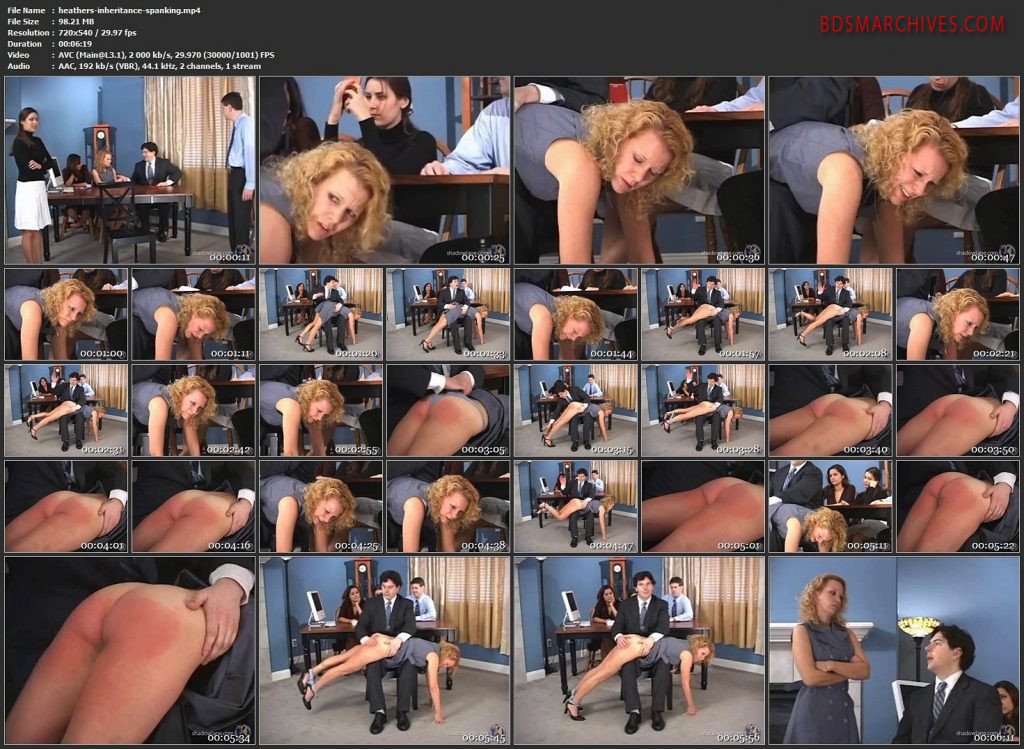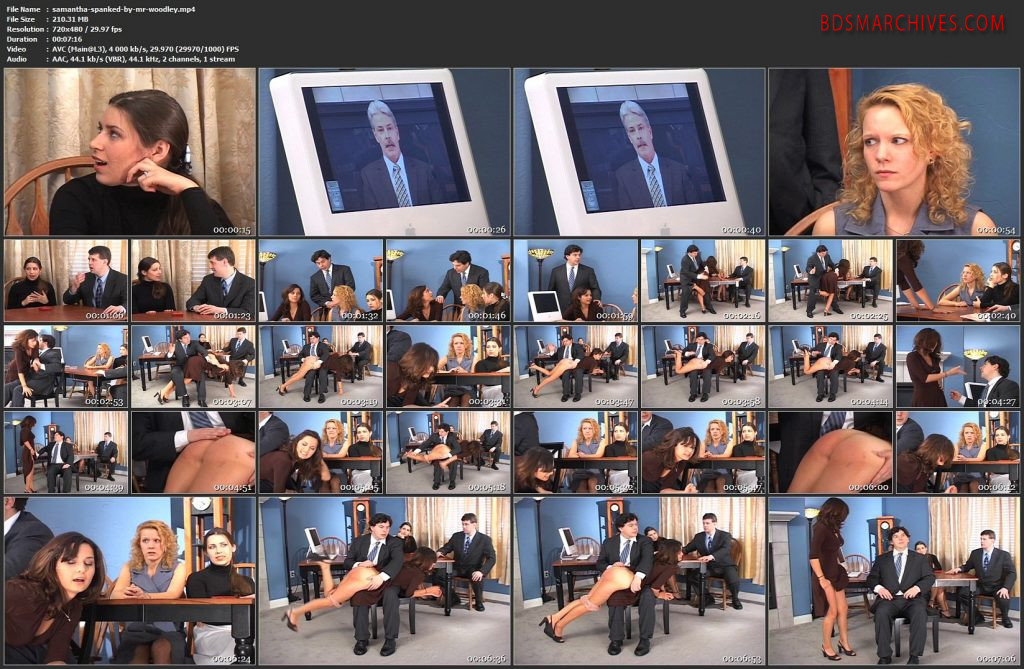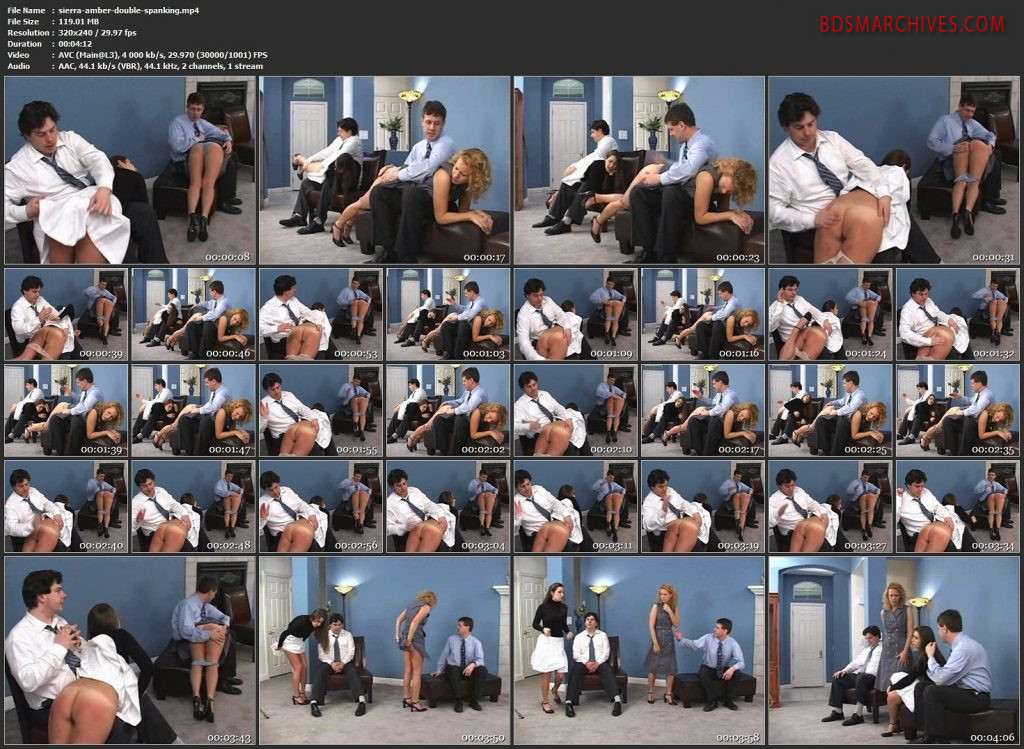 Presenting a unique discipline fantasy, featuring three beautiful, naughty and pen ultimately spankable young ladies, two new male tops, five spankings total, (including a hot, double spanking scene), the introduction of Amber Wells to Shadow Lane and a special appearance by Keith Jones as Uncle Penwyn.
In this simple fable of greed and retribution, two spoiled girls are given a harsh ultimatum at the reading of their Uncle Penwyn's will: Submit to two sound, bare bottom spankings, or forfeit two million in cash! Heather (Amber Wells) and Brooke (Sierra Salem) are stunned! The paralegal (Samantha Woodley) is appalled! Dennis Lexan (Mike Nous), the Executor of the estate and Heather's guardian, is delighted to assist! And John (Frank Logan), Brooke's fiance, is eager to cooperate — for about a million reasons! By complying with the terms of the will, John will not only get to marry an heiress but he will also get to spank a brat! Loath to submit to corporal punishment, but eager to claim their million dollars each, Heather and Brooke reluctantly consider complying with the provisions of their cranky old Uncle Penwyn's will.
Indignant on the girls' behalf, Miss Woodley protests that such a will could never be legally binding and urges Heather and Brooke to seek a second opinion before they give in to the bizarre requirements of inheriting their uncle's fortune. Highly displeased by his secretary's interference, Mr. Lexan summarily pulls her out of her chair first bends her over the desk for a brisk palm of the hand correction, then decides to complete the lesson with Miss Woodley over his knee.
Having quieted Miss Woodley's protests, Mr. Lexan bids John to begin to carry out Uncle Penwyn's instructions to the letter, which stipulates that the spankings must be received within one hour of the reading of the will. John needs no further prodding to draw the pouting and resentful Brooke across his lap and spank her smartly, first on the seat of her charming white pleated skirt, then on her pantied bottom and finally, on the bare. Brooke does not take her spanking well, complaining all the while about the stupidity and unfairness of the entire situation. Next, it is Heather's turn to be spanked, and as no fiance or husband is present to carry out this awesome duty, it falls to Mr. Lexan to administer the discipline to Heather himself. Over his substantial lap the little blonde goes for a long, hard, cheek pinkening punishment, Uncle Penwyn's revenge from beyond the grave for all the noise, annoyance and havoc Heather created to disturb his peace while a thoughtless, careless teen. Heather takes her punishment somewhat better than Brooke, trying to remind herself all the while that: OH GOD, SHE WANTS THAT MONEY! Since each heiress to be must receive not one but two, vigorous, bare bottom spankings before being able to claim their hard earned reward, the men compel the young ladies to switch laps and now Mr. Lexan with Brooke across his knee and John with Heather across his, proceed to discipline the avaricious beauties in tandem, creating a hell of a racket and two of the most ravishingly blushing bottoms in The West.
Amber Pixie Wells, Frank Logan, Keith Jones, Mike Nous, Samantha Woodley, Sierra Salem
http://212.162.153.174/c9fe21394fa1e70c/Heirs_to_Misfortune.zip