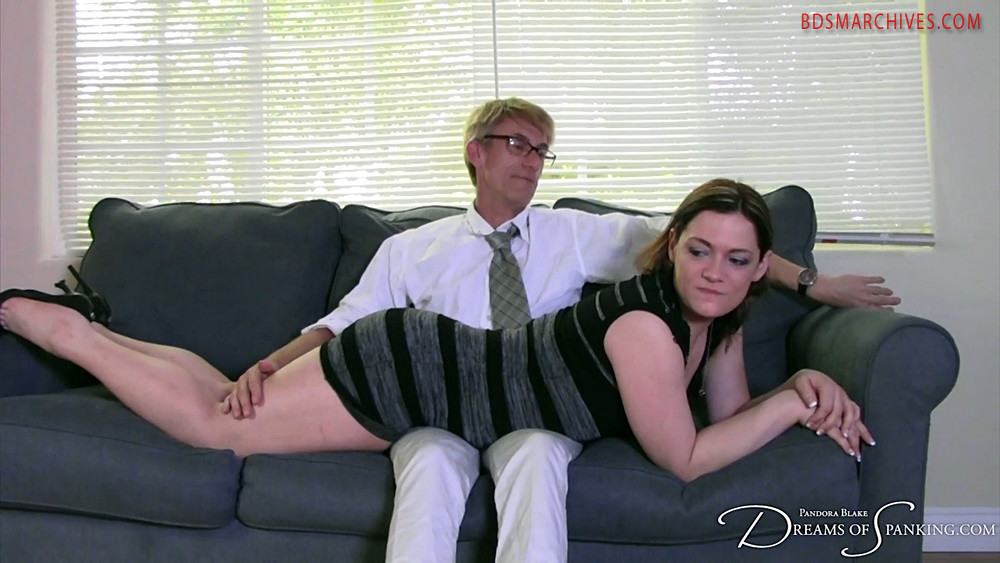 In this devious blackmail porn film, Ten Amorette entraps kinky politician Paul Kennedy. Ten goads him into giving her a hard belt spanking, and the red marks – and photo proof – she needs.
This spanking blackmail porn scene is inspired by the devious machinations in House of Cards, with femme fatale Ten Amorette playing the part of a money-hungry blackmailer. She's been offered a large sum of cash if she can trap kinky politician Paul Kennedy into exposing his unusual sexual tastes – and she's keen to complete the challenge.
Arriving at his house in a tight dress, high heels and with a sexy smile, it's almost inevitable that the poor politician will take the bait. Their flirting quickly escalates until Paul has Ten over his knee, delivering a stinging hand spanking over her white lace panties. But red hand marks are not enough – Ten needs stronger evidence of Paul's 'sexual deviance'. Can she manipulate him into giving her some more dramatic marks, strong enough that they'll show up in the photos she'll sell to the press?
After goading him further, Ten gets her wish. Paul orders her to bend over the sofa with her dress pulled up to her waist, exposing her gorgeous bare bottom. Then he lets her feel the full force of his leather belt right across both cheeks. Ten squeals and protests, playfully inciting him to give her further harsh whacks with the belt. With her knickers round her thighs and her bottom growing redder and redder, will Ten get the marks she needs? After the beating, in the bathroom, she gets out her phone and inspects the fruits of her labour…
File Name : Blackmail Material.mp4
File Size : 636.5 MB
Resolution : 1920×1080
Duration : 00:13:04
Video : AVC, 6 484 kb/s, 25.000 FPS
Audio : AAC, 317 kb/s (VBR), 48.0 kHz, 2 channels, 1 stream
http://212.162.153.174/a0d799155af392d8/Blackmail_Material.mp4