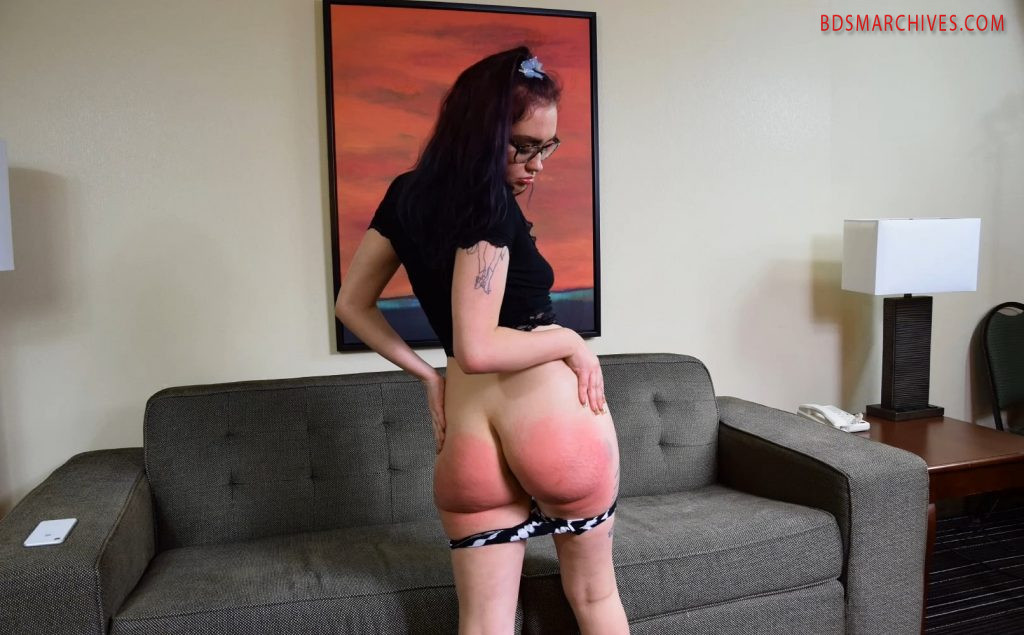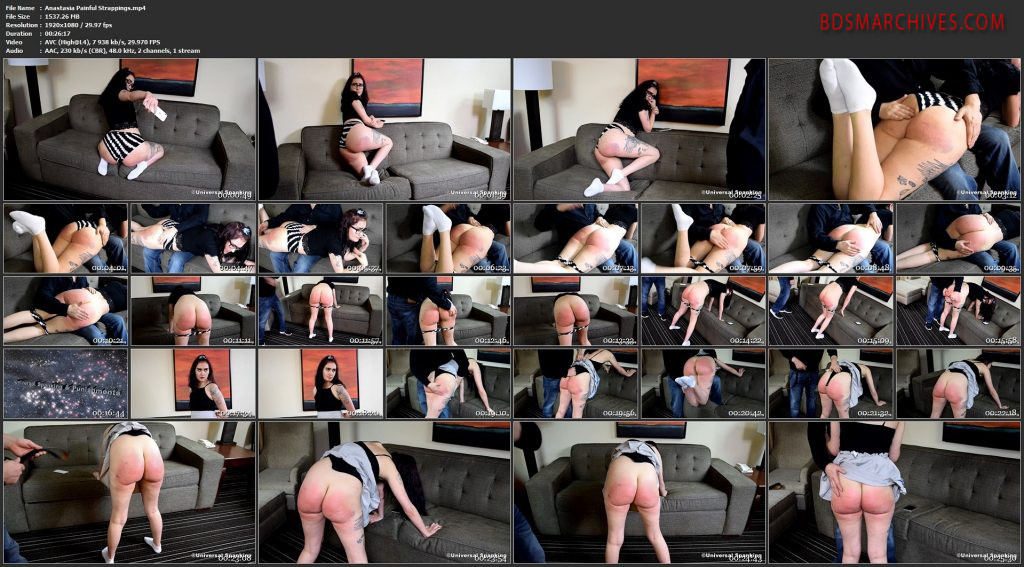 This video features "Spanked Two Days in a Row" and "Spanked Three Days in a Row" and tells the complete story of "Anastasia's Painful Strappings!"
Anastasia has recently been loving all of the attention she'd been given at school, but she's been getting a lot of that attention for all the wrong reasons. Ever since Anastasia shared a picture with a boy in her class of her red bottom after she she was spanked by her Dad, it's been all the rage at her school. Now all of the girls are sharing photos of their freshly spanked bottoms with their classmates, and some of them are even getting in trouble a lot more now!
In fact, at the start of this past week Anastasia was spanked on her bare bottom for not completing her homework and other infractions, then just the next day she was caught by her Father taking selfies of her still sore bottom. When confronted, Anastasia admitted that she had been taking pictures after her spankings and sharing them with boys. Infuriated, Anastasia's Dad immediately took her over his knee for hard spanking. Anastasia was already sore from the spanking that she endured just the day before, and now she was really going to have trouble sitting down! A girl isn't supposed to be sharing photos of her most private areas and her Dad was determined to teach just that lesson by pulling Anastasia's panties down and slapping her naked cheeks.
The spanking over the knee was very painful and Anastasia's Dad wasn't through yet, in fact her peeled of his leather belt and he began whipping that bare butt of hers! The strokes with his belt were delivered in a very strict fashion and Anastasia started promising that she could be a good girl, even so, her father kept lashing her bottom until it glowed a bright red. In fact, for the final strokes he set a timer at 60 seconds and drove in as many licks with the belt as he could until the time was up! Anastasia's Dad promised her that if she sent out any more photos of her bare red bottom, she'd be given an even harder spanking with his belt.
"Spanked Three Days in a Row" is part two of "Anastasia's Painful Strappings", a story about a girl obsessed with sending the boys at school selfies of her bare bottom. In part one ("Spanked Two Days in a Row"), Anastasia found herself being spanked and strapped with the belt by her Dad once he found out about the pictures of Anastasia's red bottom floating around the school. He made it clear that the spanking would be much worse next time if she didn't showcase better decision making. Well, sure enough, Anastasia couldn't stop herself from sending out more selfies of her sore bottom and now she faces an even harder punishment than she endured just the day before!
Anastasia already had a swollen bottom from her spankings the previous two days, now it was going to be even more red because her Father was determined more than ever to make sure that she didn't send out any more bare bottom selfies. Anastasia's Father lifted her little skirt and he began spanking her hard right from the start, the naughty girl struggled with the pain and unfortunately she knew that the punishment had just begun. Next, her Father dropped her panties and really laid into her good, in fact he put his knee on the edge of the couch and he lifted the girl right off the ground so her legs were kicking while he spanked her! The hand really hurt, but Anastasia knew that she'd be getting the belt next and that her bottom would be blistered by the time that the strapping was over. To make the punishment truly memorable, Anastasia's Dad set a timer and she had to take fast and hard repeated strokes of the belt for 90 seconds, her Dad blazed her defiant buns! Maybe Anastasia likes the attention of sending photos of her sore butt to boys, but rest assured her Father is going to keep giving her stern licks until she learns to be better behaved.
File Name : Anastasia Painful Strappings.mp4
File Size : 1537.26 MB
Resolution : 1920×1080
Duration : 00:26:17
Video : AVC, 7 938 kb/s, 29.970 FPS
Audio : AAC, 230 kb/s (CBR), 48.0 kHz, 2 channels, 1 stream
http://212.162.153.174/0458fd8a269addd5/Anastasia_Painful_Strappings.mp4